RFX & Tender Management Best Prices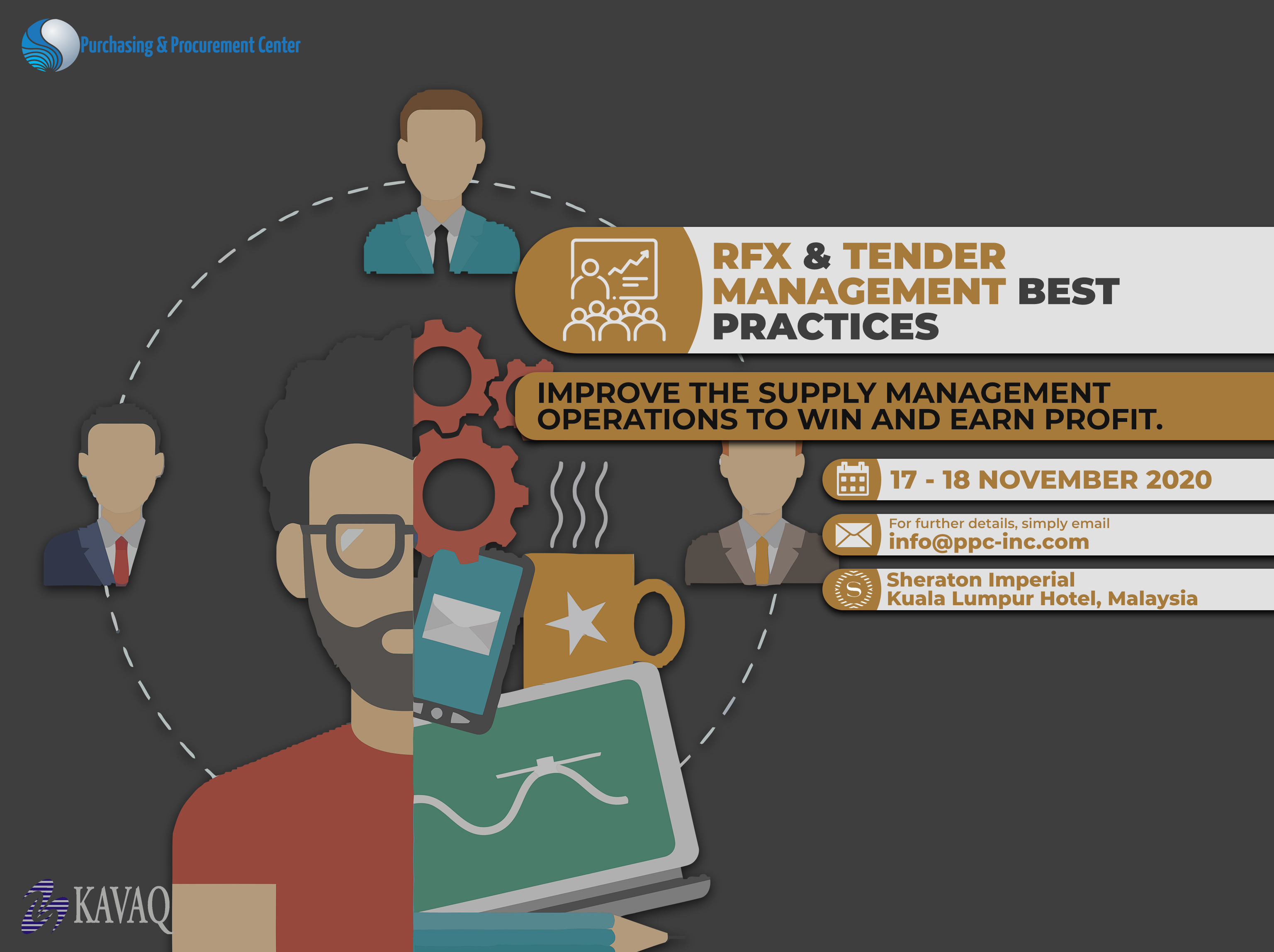 November 17 – 18, 2020
9:00 am to 5:00 pm
Kuala Lumpur, Malaysia
+6012 431 2981
Program Overview
Good endings usually require good beginnings. This is particularly true for procurement activities where best practices in tender/RFQ management, the beginning of the contracting process, are essential for a successful project outcome and minimization of total cost.
This program is designed to take the participant from the time the requirement is defined, and a contract is desired thru the major steps of the tendering process and concluding with successful negotiations. The critical issues of the tendering process, risk mitigation thru contract types, contractor selection, and finally planning for successful negotiations all receive coverage in this valuable program that is certain to reduce costs and add to the organization's objective for improved performance in all activities.
Who should attend
 Contracts Officers and Managers, Procurement/Purchasing Managers
Engineering Project Managers, Construction Managers, Tender Managers,
Buyers, Contract Administrators, Project Coordinators
 Maintenance Managers and Systems Managers and all others in
organizations whose leadership want world-class skills sets in those involved
in tender and contract management activities.
 The program is a great way to develop those new to the function, prepare for
a major project, or useful as a refresher for veterans.
You will learn
Upon completion of this seminar, participants will know:
 The Tendering Process and the Major Steps that Should Be Followed
 Mitigation of Risk by Selection of Contract Type
 Best Practices for Qualifying Contractor
 Points on How to obtain price breakdowns from Suppliers
 The Criticality of The Statement of Work
 Issues related to acceptance of the deliverable
 Essential Elements of a Valid Contract
 Payment Types and important considerations for progress payments
 Major Points on Negotiations
What's in for the organization?
The organization will benefit by:
 Reduced Cost of Contracts for Materials & Services
 Reduced Risks in Contracting
 Higher Productivity of Contracting Personnel
 Greater Strategic Focus of Those Involved in Contracting
What's in for you?
Attendees will gain by participation in this program as a result of:
 Increased Skill Sets in The Tendering Process
 A Greater Sense of Professionalism
 Knowledge of World-Class Tendering Practices
 Greater Ability to Lead Successful Negotiations
 Increased Recognition by the Organization Due to Improved Performance
Day 1
8:45 AM Registration
8:55 AM Welcome Remarks
9:00 AM Workshop/Training Starts
10:45 AM Morning Coffee Break
12:30 NN Lunch
1:30 PM Training Resumes
3:30 PM Afternoon Coffee Break
5:00 PM End of Training
Day 2
 9:00 AM Workshop/Training Starts
10:00 AM Morning Coffee Break
10:15 AM Training Resumes
12:00 NN Lunch
1:00 PM Training Resumes
2:30 PM Afternoon Coffee Break
2:45 PM Training Resumes
5:00 PM Q & A and End of Training
ROBI BENDORF 
CPSM, MCIPS, Lifetime C.P.M., M.ED
Robi has over 35 years of purchasing and sales experience, involving domestic and international activities, for a broad range of manufacturing and service businesses. He has extensive experience in consulting & training in purchasing, contracts, reengineering the supply management process, the management of procurement functions, global sourcing of materials and components, reducing cost of purchased materials and services, and negotiation of complex transactions

and contracts.

He has held purchasing and contracts management positions in high volume manufacturing, subcontract, job shop, and service operations, involving gas turbine manufacturing, power generation, nuclear and fossil power plants, electrical distribution and control, air conditioning equipment and global sourcing services.