Purchasing Contract Terms & Conditions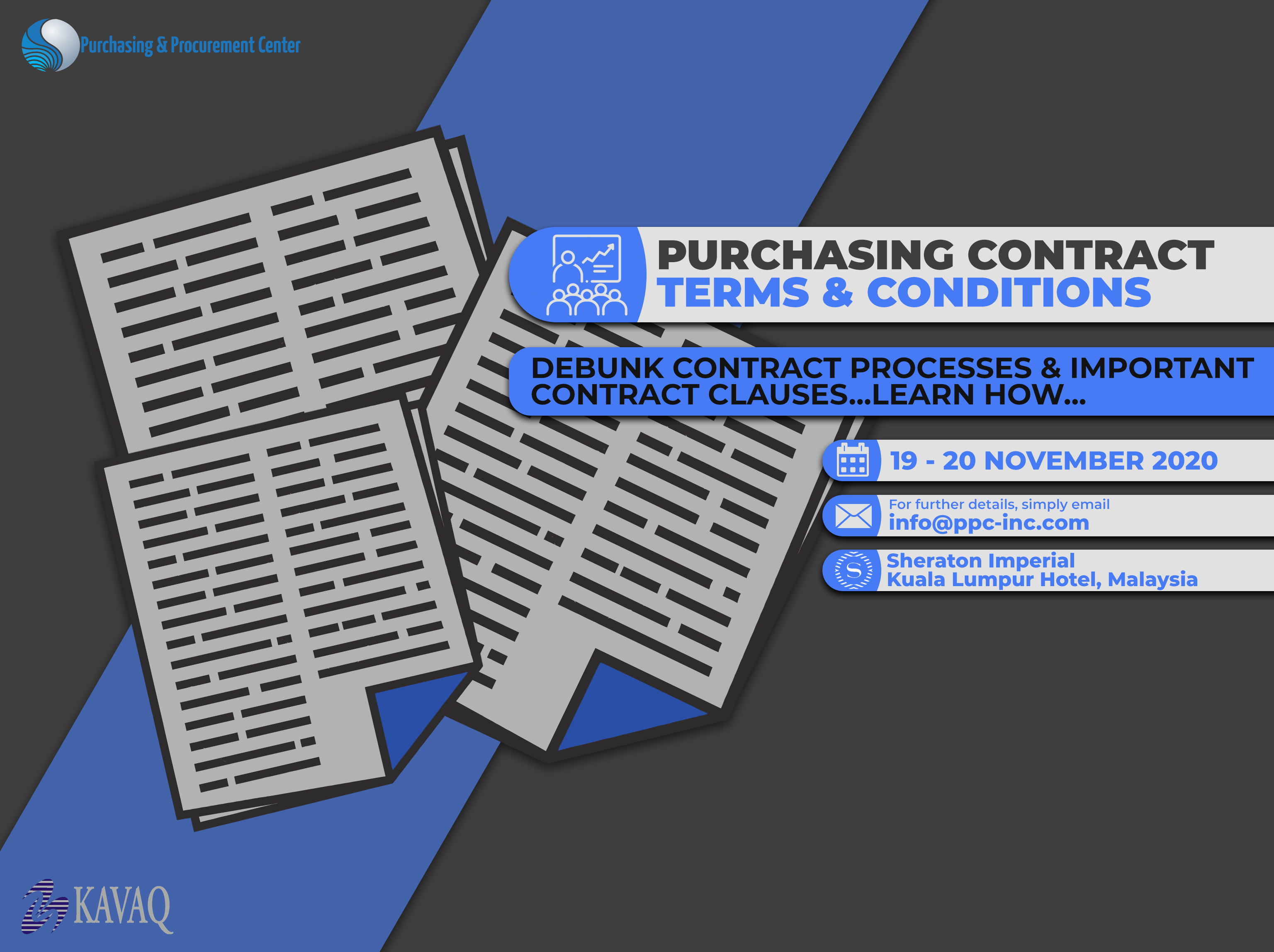 November 19 – 20, 2020
9:00 am to 5:00 pm
Kuala Lumpur
+6012 431 2981
The contract is at the heart of all transactions for the procurement of goods, equipment, construction, and services. Yet repeatedly we see that many involved in the procurement and contracting processes would benefit greatly from a much better understanding of contracts in general and more specifically the meaning and application of the many Terms and Conditions contained in most contracts.
Procurement, contracts, purchasing, supply management, operational, maintenance and financial personnel at all levels involved in the contracting process for goods, equipment, and services.
Upon completion of this seminar, participants will know:
 How to obtain better outcomes from contracts
 Issues in developing and writing important contract clauses
 Clauses for contract changes
 How to analyze and understand contracts provisions
 Methods of managing risk
 How to prepare for claims and disputes
 Acceptance and warranty issues
 Types of contract payments
 Many contract Terms &Conditions
What's in for the organization?
The organization will benefit by:
 Having a core of highly knowledgeable and skilled contract management
professionals
 Reducing commercial risk
 Improving the performance of contractors through better terms and conditions
 Reduced total cost of ownership for purchased materials, equipment, and
services
 Reducing the potential for costly claims and disputes
 Higher productivity of personnel involved in contracting activities
 Improved productivity of the entire organization by better contractor performance
 Greater strategic focus of those involved in the contracting process
Participants will benefit from learning:
 Best practices that increased recognition by the organization due to improved performance
 Methods to deal with the many issues involved in developing procurement
terms and conditions.
 Critical contract terms & conditions for many types of procurement
 How to write contract clauses
 Issues related to contract creation
Day 1
8:45 AM Registration
8:55 AM Welcome Remarks
9:00 AM Workshop/Training Starts
10:45 AM Morning Coffee Break
12:30 NN Lunch
1:30 PM Training Resumes
3:30 PM Afternoon Coffee Break
5:00 PM End of Training
Day 2
 9:00 AM Workshop/Training Starts
10:00 AM Morning Coffee Break
10:15 AM Training Resumes
12:00 NN Lunch
1:00 PM Training Resumes
2:30 PM Afternoon Coffee Break
2:45 PM Training Resumes
5:00 PM Q & A and End of Training
ROBI BENDORF 
CPSM, MCIPS, Lifetime C.P.M., M.ED
Robi has over 35 years of purchasing and sales experience, involving domestic and international activities, for a broad range of manufacturing and service businesses. He has extensive experience in consulting & training in purchasing, contracts, reengineering the supply management process, the management of procurement functions, global sourcing of materials and components, reducing cost of purchased materials and services, and negotiation of complex transactions

and contracts.

He has held purchasing and contracts management positions in high volume manufacturing, subcontract, job shop, and service operations, involving gas turbine manufacturing, power generation, nuclear and fossil power plants, electrical distribution and control, air conditioning equipment and global sourcing services.