From Tactical to World Class Procurement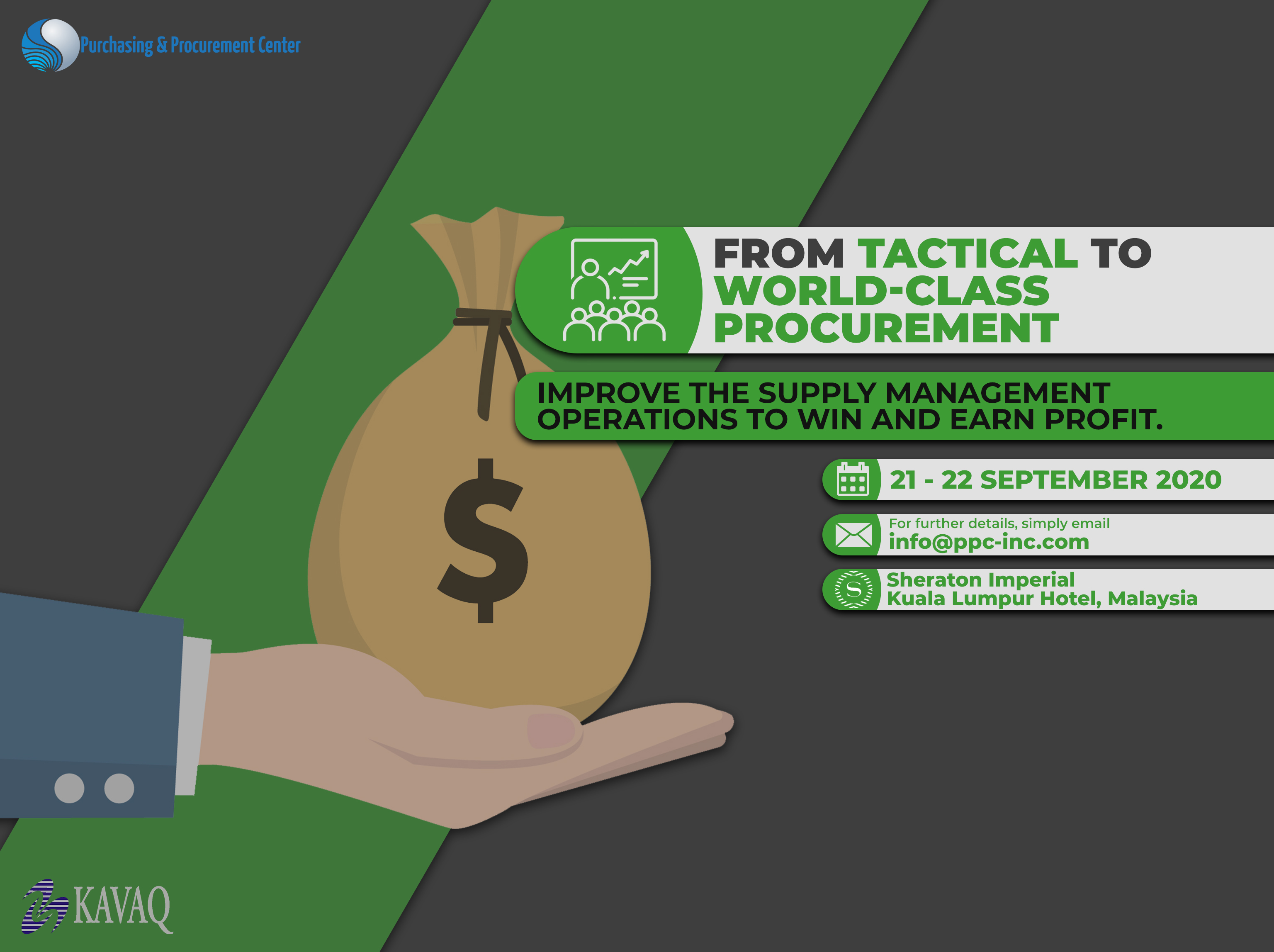 September 21 – 22, 2020
9:00 am to 5:00 pm
Kuala Lumpur, Malaysia
+6012 431 2981
Program Summary
Most Procurement Operations have the objective of becoming or maintaining World-Class status. World-Class Purchasing operations target significant annual cost improvement, bringing significant strategic value to their organizations and strong recognition to the function and those in it.
Yet according to many studies most organizations must significantly improve their supply management operations in order to provide the continuous improvements needed to win and earn profits in today's very competitive market place.
This program explores the practices generally viewed as leading to World-Class performance in procurement so that you can determine where you are now and begin immediate implementation of the steps to world class
Who Should Attend
Chief Procurement Officers, Directors/Vice Presidents /Directors/Heads of Procurement & Purchasing
Purchasing, Procurement & Supply Chain Managers, Executives/Specialists and Other Professionals
Materials, Contracts, Projects, Maintenance, Operations, and Financial Managers
All other Managers and Professionals interested in lowering total cost and increasing productivity and profit contributions from better procurement operations
Event Day
Day 1 
8:45 AM Registration
8:55 AM Welcome Remarks
9:00 AM Workshop/Training Starts
10:45 AM Morning Coffee Break
12:30 NN Lunch
1:30 PM Training Resumes
3:30 PM Afternoon Coffee Break
5:00 PM End of Training
Day 2 
 9:00 AM Workshop/Training Starts
10:00 AM Morning Coffee Break
10:15 AM Training Resumes
12:00 NN Lunch
1:00 PM Training Resumes
2:30 PM Afternoon Coffee Break
2:45 PM Training Resumes
5:00 PM Q & A and End of Training
ROBI BENDORF 
CPSM, MCIPS, Lifetime C.P.M., M.ED
Robi has over 35 years of purchasing and sales experience, involving domestic and international activities, for a broad range of manufacturing and service businesses. He has extensive experience in consulting & training in purchasing, contracts, reengineering the supply management process, the management of procurement functions, global sourcing of materials and components, reducing cost of purchased materials and services, and negotiation of complex transactions

and contracts.

He has held purchasing and contracts management positions in high volume manufacturing, subcontract, job shop, and service operations, involving gas turbine manufacturing, power generation, nuclear and fossil power plants, electrical distribution and control, air conditioning equipment and global sourcing services.