Cost Price Analysis – The Way to Greater Savings In Negotiations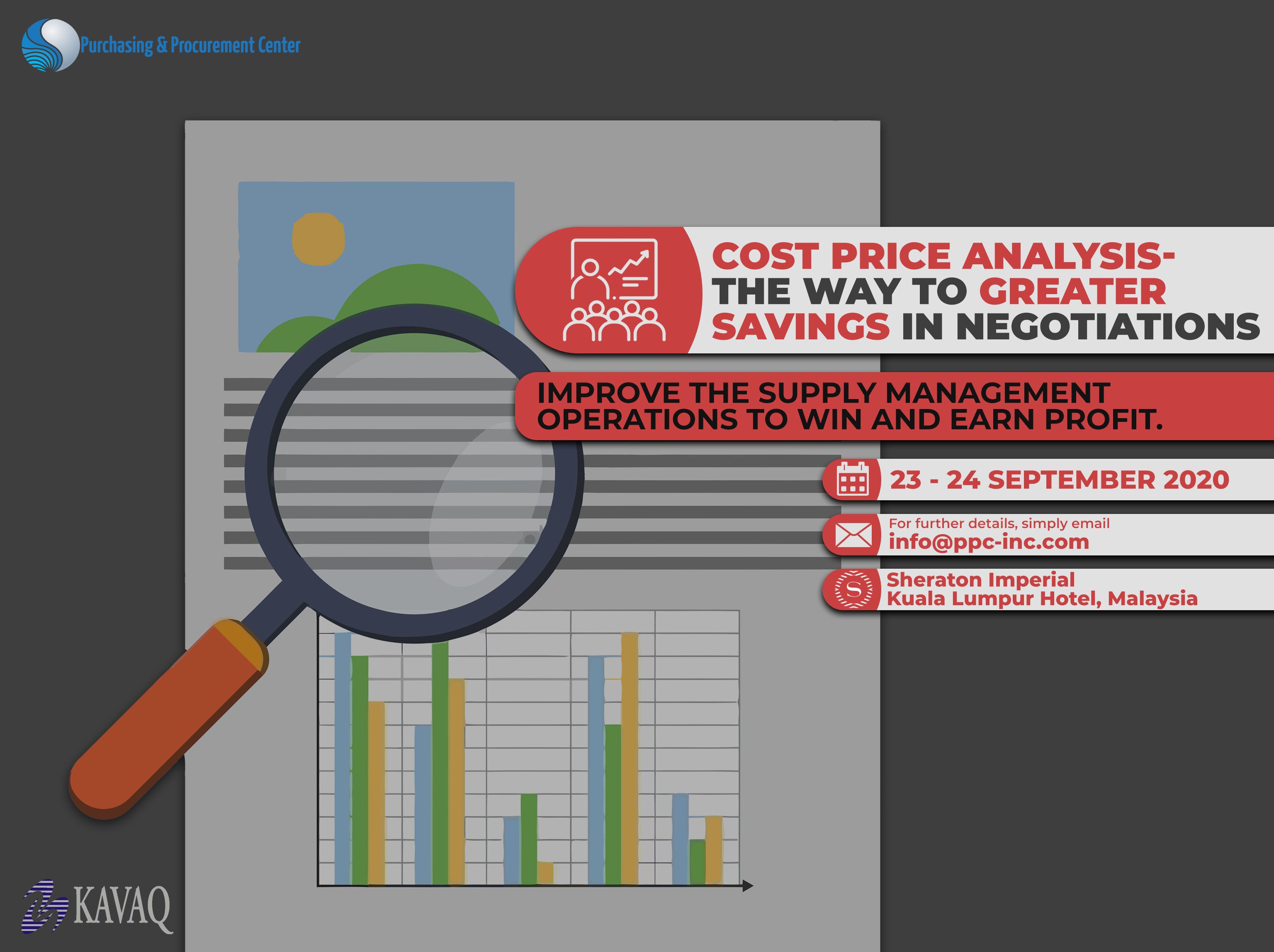 September 23 – 24, 2020
9:00 AM to 5:00 PM
Kuala Lumpur, Malaysia.
+6012 431 2981
Program Overview
Where To Focus Your Efforts When Doing Cost-Price Analysis? 
You're busy with a lot of work – that's why you first learn what is effective in procurement & what is not effective. Then we show as to where should you do direct your Cost-Price analysis endeavours so that you don't waste time doing things that do not affect the bottom line.
The Difference Between Price Analysis & Cost Analysis? 
There's a time when you do Price Analysis and there's a different time when you do Cost Analysis. We'll show you the difference and when you should do each of them!
How To Perform a Price Analysis? 
This session is jump-packed with exercises where you're going to understand how suppliers mark up their prices, margin pricing & using purchase price index to determine the price suppliers should charge.
How to Perform Cost Analysis? 
This is where you learn all you need to know about cost analysis accompanied with exercises, for example … cost estimation, major elements of cost, effects of direct & indirect costs on suppliers costs/ pricing, getting suppliers to provide cost breakdowns and should cost analysis.
Price Analysis & Adjustment During Uncertain Times 
This is a more advanced concept which is illustrated through a hands on exercise by applying an 8 step process to determine an economic price adjustment
Overall Simple, Easy & Down-To-Earth Explanation & Application Of All Cos-Price Analysis Concepts
Despite the fact that cost and price analysis is complicated, we introduce all concepts in a practical, realistic & coherent way so that you can absorb all the concepts in an easy way & go back ready to apply these concepts in your day to day activities
Who Should Attend
Purchasing, Procurement, and Contracts and
Those involved in operations, engineering, maintenance, quality, projects, and other company activities that expose them to suppliers and buying activities for production, maintenance, equipment, MRO, services, and other outside purchased requirements
Event Day
Day 1 
8:45 AM Registration
8:55 AM Welcome Remarks
9:00 AM Workshop/Training Starts
10:45 AM Morning Coffee Break
12:30 NN Lunch
1:30 PM Training Resumes
3:30 PM Afternoon Coffee Break
5:00 PM End of Training
Day 2 
 9:00 AM Workshop/Training Starts
10:00 AM Morning Coffee Break
10:15 AM Training Resumes
12:00 NN Lunch
1:00 PM Training Resumes
2:30 PM Afternoon Coffee Break
2:45 PM Training Resumes
5:00 PM Q & A and End of Training
ROBI BENDORF 
CPSM, MCIPS, Lifetime C.P.M., M.ED
Robi has over 35 years of purchasing and sales experience, involving domestic and international activities, for a broad range of manufacturing and service businesses. He has extensive experience in consulting & training in purchasing, contracts, reengineering the supply management process, the management of procurement functions, global sourcing of materials and components, reducing cost of purchased materials and services, and negotiation of complex transactions and contracts.

He has held purchasing and contracts management positions in high volume manufacturing, subcontract, job shop, and service operations, involving gas turbine manufacturing, power generation, nuclear and fossil power plants, electrical distribution and control, air conditioning equipment and global sourcing services.