Category Management in Procurement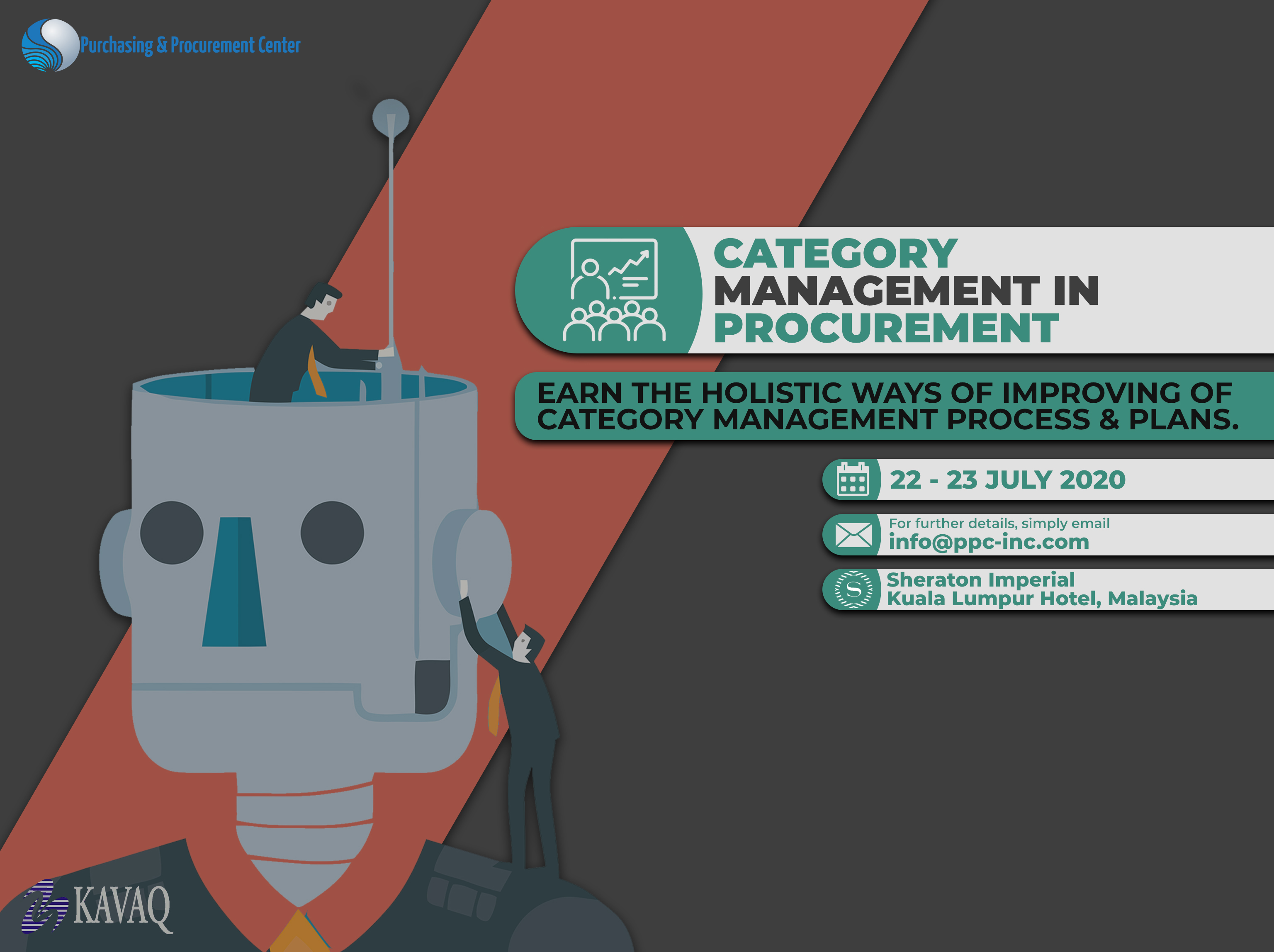 July 22 – 23, 2020
9:00 am to 5:00 pm
Kuala Lumpur, Malaysia.
+6012 431 2981
Program Overview
One of the many changes in Procurement as it moves away from its traditional transactional focus to a much more strategic focus and even beyond,  is the introduction of Category Management into the Supply Management organizational structure. Category Management is the application of procurement best practices applied to a single category of the organizations spend so that the Category Manager becomes the Chief Procurement Officer responsible for the organization's management of the spend category.
This program provides considerations, methods, and competencies directed at providing the new Category Manager with the knowledge needed to accomplish this high-level responsibility.
Who Should Attend
Managers and professionals involved in purchasing, projects, contracts, supply management, operations, maintenance, engineering, quality, and other activities that expose them to dealings with important spend categories and who want to improve the supply management process to the latest state of the art.
You will learn
Upon completion of this seminar, participants will have covered:
The Evolution of Category Management

Benefits and Approaches for Category Management 

The Capabilities and Skills of the Category Manager 

Defining the Scope of the Category 

Category Management Outcomes Depend on Collaboration

Measuring the Performance of the Category Management Process

Category Management Demands Reengineering  

Category Risk Management

Strategic Category Management Plans
What's in for the organization?
The organization will benefit by:
A move to higher levels of strategic sourcing

Improved supplier and stakeholder collaboration with Supply Management

Broader ways of obtaining overall organizational objectives

Higher productivity of all those involved in the business processes

Greater strategic and big-picture focuses of all those involved in the supply chain management process
What's in for you?
Attendees will gain by participation in this program as a result of:
Increased skill sets in implementing Category Management 

Learning on to spend resources on higher-value activities

Gaining a more strategic-big-picture focus

A greater sense of professionalism

Greater ability to lead continuous improvement programs

Increased recognition by the organization due to improved performance
Event Day
Day 1 
8:45 AM Registration
8:55 AM Welcome Remarks
9:00 AM Workshop/Training Starts
10:45 AM Morning Coffee Break
12:30 NN Lunch
1:30 PM Training Resumes
3:30 PM Afternoon Coffee Break
5:00 PM End of Training
Day 2 
 9:00 AM Workshop/Training Starts
10:00 AM Morning Coffee Break
10:15 AM Training Resumes
12:00 NN Lunch
1:00 PM Training Resumes
2:30 PM Afternoon Coffee Break
2:45 PM Training Resumes
5:00 PM Q & A and End of Training
ROBI BENDORF 
CPSM, MCIPS, Lifetime C.P.M., M.ED
Robi has over 35 years of purchasing and sales experience, involving domestic and international activities, for a broad range of manufacturing and service businesses. He has extensive experience in consulting & training in purchasing, contracts, reengineering the supply management process, the management of procurement functions, global sourcing of materials and components, reducing cost of purchased materials and services, and negotiation of complex transactions and contracts.

He has held purchasing and contracts management positions in high volume manufacturing, subcontract, job shop, and service operations, involving gas turbine manufacturing, power generation, nuclear and fossil power plants, electrical distribution and control, air conditioning equipment and global sourcing services.