Analytical Techniques to Enhance Supply Management Performance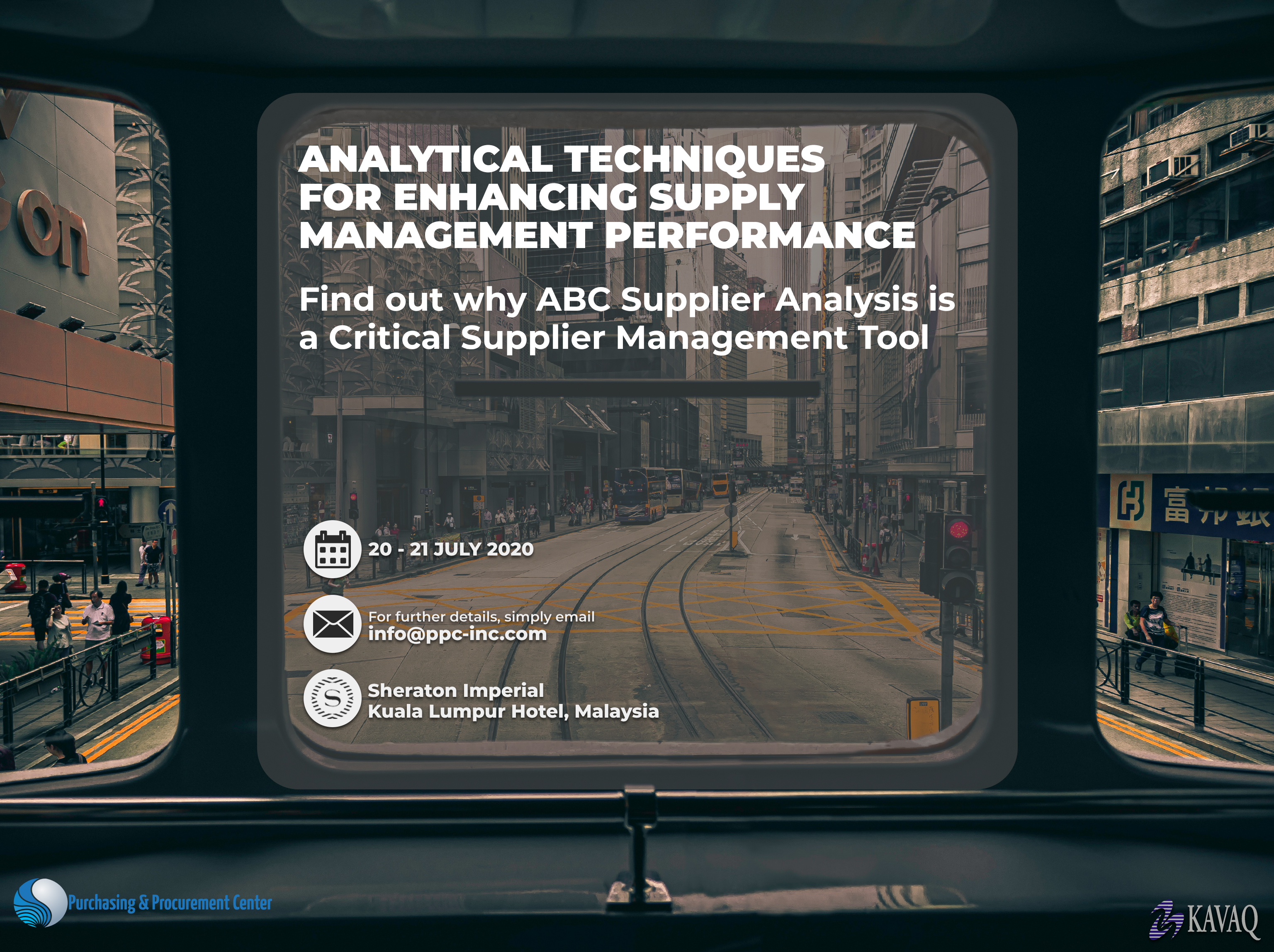 July 20 – 21, 2020
9:00 am to 5:00 pm
Kuala Lumpur, Malaysia
+6012 431 2981
Program Overview
Supply Management is about buying the right thing, at the right time, at the right quality, at the right price, from the right supplier, in the right way.  In order to do these steps "right" requires skillsets in many analytical techniques. This fast-paced program covers many of the basic analytics that purchasing and contract personnel use to obtain maximum value for their organizations.
Who Should Attend
Contracts, Purchasing, Procurement Personnel, Supply Management

And all others who are involved in the planning, evaluation, preparation and management of purchasing, tenders, and contracts that cover the acquisition of materials, equipment, and services, and who are in organizations whose leadership want high levels of competency in those involved in these activities.  
You will learn
Upon completion of this seminar, participants will know:

Over 50 potential Key Performance Indicators (KPIs) for purchasing operations

The value of Producer Price Indexes

6 Steps in developing a Purchase Price Index

Analytics for supplier segmentation

Cost estimating relationships 

The analytics of evaluating supplier prices 

Developing "Should Costs"
What's in for the organization?
The organization will benefit by:
Reduced total cost for purchased goods and services 

Greater focus on strategic sourcing issues 

Better analytics to support procurement decisions and strategies

Improved supplier selection and performance criteria

A greater level of professionalism and skills in those involved in the purchasing and contracting process
What's in for you?
Attendees will gain by participation in this program as a result of:
Increased skill sets in analytical processes 

A greater sense of confidence and professionalism

Applying increased skills in all phases of the procurement process

Greater ability to develop best practices supply management strategies

Increased recognition by the organization due to improved performance

 
Event Day
Day 1
8:45 AM Registration
8:55 AM Welcome Remarks
9:00 AM Workshop/Training Starts
10:45 AM Morning Coffee Break
12:30 NN Lunch
1:30 PM Training Resumes
3:30 PM Afternoon Coffee Break
5:00 PM End of Training
Day 2
 9:00 AM Workshop/Training Starts
10:00 AM Morning Coffee Break
10:15 AM Training Resumes
12:00 NN Lunch
1:00 PM Training Resumes
2:30 PM Afternoon Coffee Break
2:45 PM Training Resumes
5:00 PM Q & A and End of Training
Our Speaker
ROBI BENDORF 
CPSM, MCIPS, Lifetime C.P.M., M.ED
Robi has over 35 years of purchasing and sales experience, involving domestic and international activities, for a broad range of manufacturing and service businesses. He has extensive experience in consulting & training in purchasing, contracts, reengineering the supply management process, the management of procurement functions, global sourcing of materials and components, reducing cost of purchased materials and services, and negotiation of complex transactions

and contracts.

He has held purchasing and contracts management positions in high volume manufacturing, subcontract, job shop, and service operations, involving gas turbine manufacturing, power generation, nuclear and fossil power plants, electrical distribution and control, air conditioning equipment and global sourcing services.