Advanced Strategies to Negotiate Lower Prices with Suppliers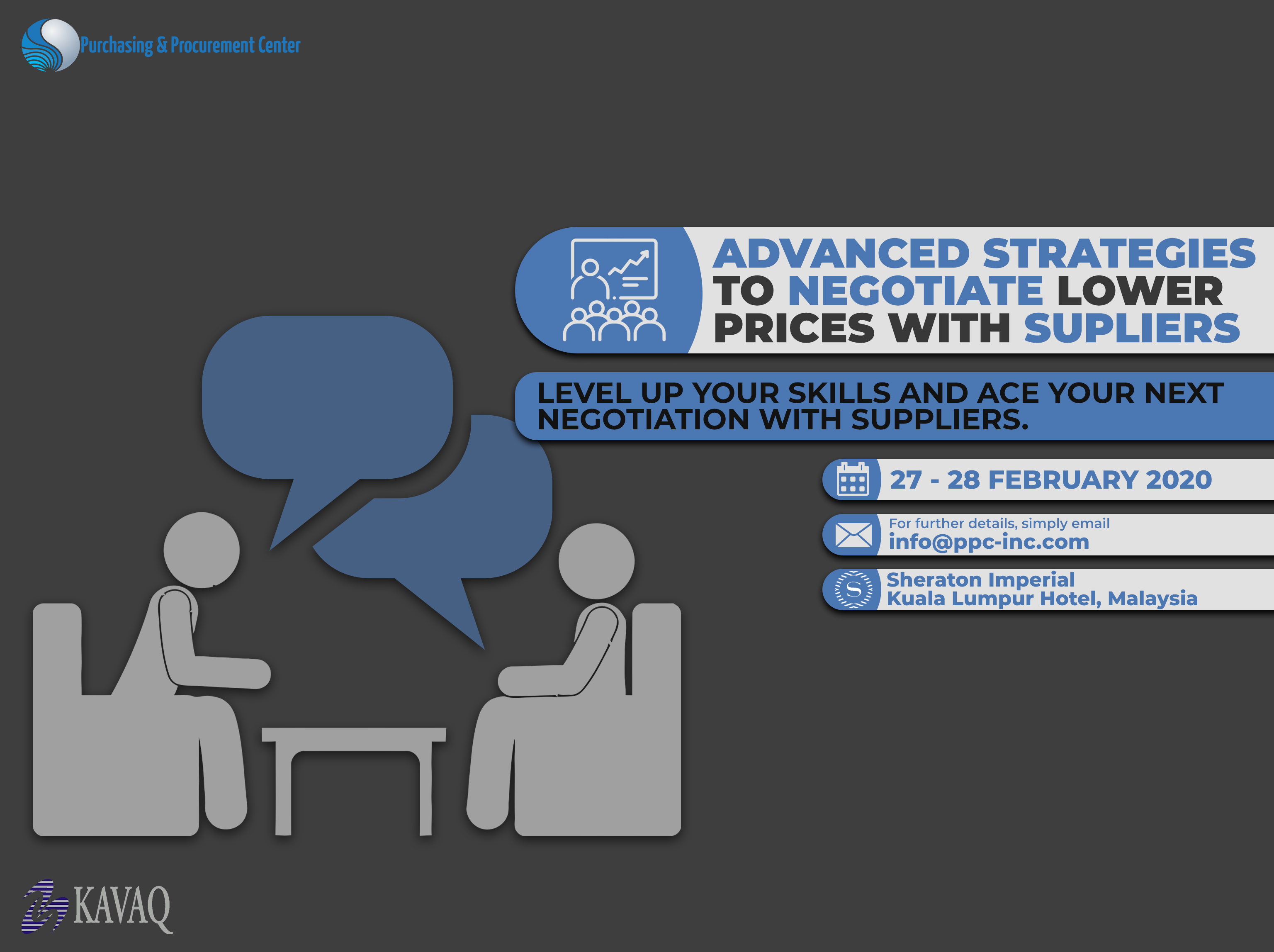 February 27 – 28, 2020
9:00 am to 5:00 pm
Kuala Lumpur
+6012 431 2981
Program Overview
The ability to negotiate successfully is one of the most basic of the businessperson's skill sets. Significant positive or negative impacts are made to every organization's bottom line from the results of the negotiations conducted by their employees with outside firms. It is therefore essential for the continued success of any organization that employees are well trained and experienced in the planning, strategies, and conducting of negotiations.
This seminar is designed to provide strong competencies in the methods and strategies that will result in successful negotiations with suppliers and contractors.
Who should attend?
Managers and professionals in:
projects, contracts, purchasing, contract administration
operations, maintenance, engineering, quality and other company activities that expose them or their staff's to negotiations with contractors and suppliers and who want to improve their competency in this critical area of performance.
You will learn
Negotiation planning
Negotiation styles & techniques
Dealing with tactics
Understanding the other side
Buyer/seller positioning on key contract issues
Developing negotiating skill sets
What's in for the organization?
Upon completion of this seminar, participants will know:
The importance of planning in successful negotiations
Approaches in negotiations
4 approaches to assist in single and sole source negotiations
The importance of determining, rating, and valuing the issues in a negotiation
6 areas in evaluating strengths and weaknesses
18 Important points to remember in the negotiation
Important elements of final preparation
Gain experience & confidence through the actual negotiation
of sample cases.
What's in for you?
Attendees will gain by participation in this program as a result of:
Increased skill sets in negotiations
A greater sense of confidence and professionalism
Applying increased negotiation skills to personnel situations
Greater ability to obtain desired outcomes in negotiations
Increased recognition by the organization due to improved
performance.
Day 1
8:45 AM Registration
8:55 AM Welcome Remarks
9:00 AM Workshop/Training Starts
10:45 AM Morning Coffee Break
12:30 NN Lunch
1:30 PM Training Resumes
3:30 PM Afternoon Coffee Break
5:00 PM End of Training
Day 2
 9:00 AM Workshop/Training Starts
10:00 AM Morning Coffee Break
10:15 AM Training Resumes
12:00 NN Lunch
1:00 PM Training Resumes
2:30 PM Afternoon Coffee Break
2:45 PM Training Resumes
5:00 PM Q & A and End of Training
Our Speaker
ROBI BENDORF 
CPSM, MCIPS, Lifetime C.P.M., M.ED
Robi has over 35 years of purchasing and sales experience, involving domestic and international activities, for a broad range of manufacturing and service businesses. He has extensive experience in consulting & training in purchasing, contracts, reengineering the supply management process, the management of procurement functions, global sourcing of materials and components, reducing cost of purchased materials and services, and negotiation of complex transactions

and contracts.

He has held purchasing and contracts management positions in high volume manufacturing, subcontract, job shop, and service operations, involving gas turbine manufacturing, power generation, nuclear and fossil power plants, electrical distribution and control, air conditioning equipment and global sourcing services.